What's up, family? Are you runway ready? By ready, I mean, have you created a runway in your imagination? Good. Here are the two latest Make Knit Work installments! I posted Episode 5 on social media but totally forgot to put it up here. Oops! Or, as my newly minted 2-year-old says, "Ooooooooot."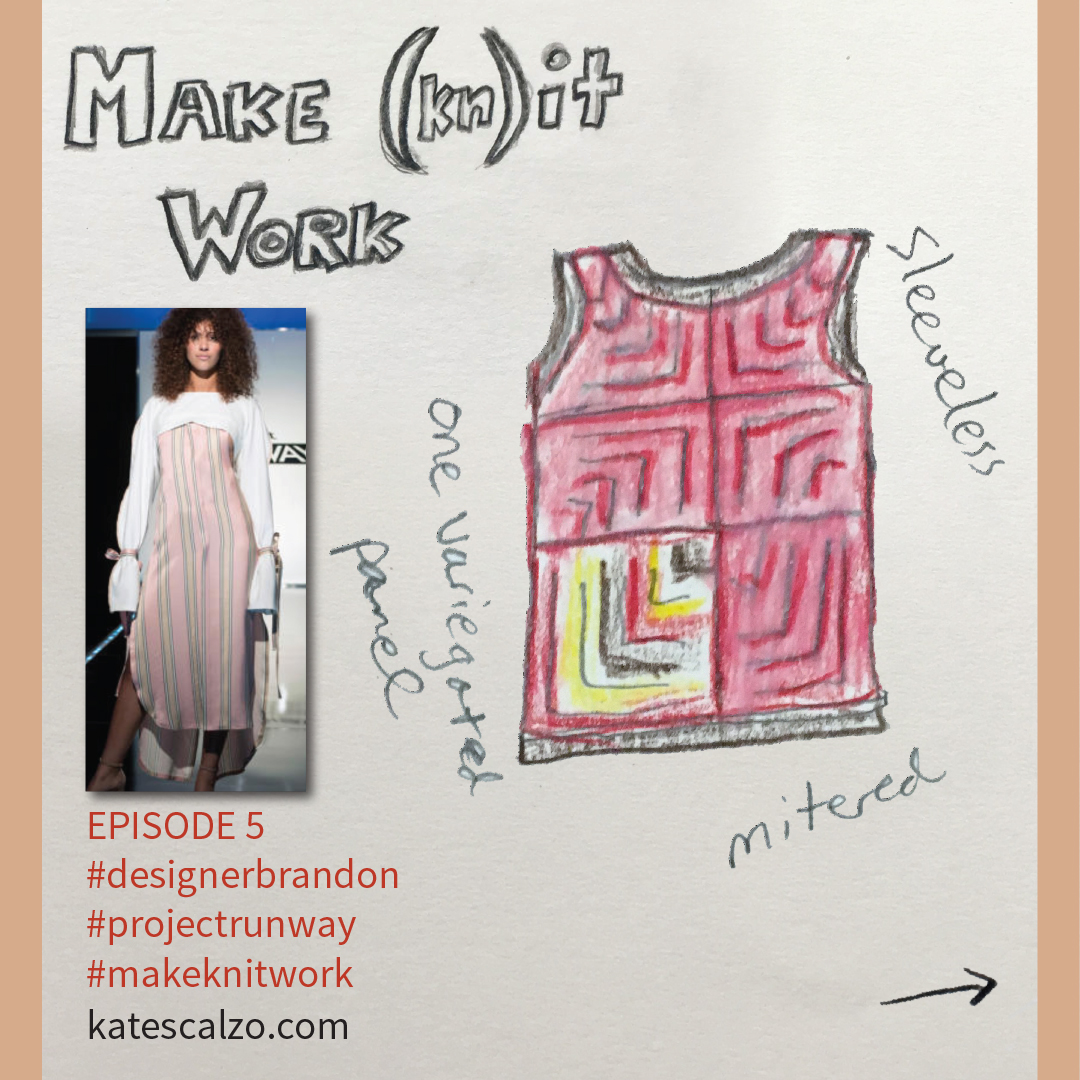 Episode 5 was a challenge about tone and feel, with the inspirations being "Good vs. Evil." Since your clothes speak before you do, it's important for the designers to grasp how their looks communicated these basic concepts. Brandon Kee's "good" look had a sweetness to it, but also steered away from tropes of innocence. She was still dressed like an adult, but straight-forward and well-intentioned. Brandon seems to be exceptionally sweet, himself, so I think it was a good fit (no pun intended).
For my first sketch, I wanted to take the wrist bows in larger direction with the color blocking resembling an upside down bow across the shoulders of the sweater. For the tunic sketch, I took the straight, horizontal cut at the upper chest to inform the square neckline; and I gave it a high-low hem to resemble the "mullet dress" feature of Brandon's design. For the mitered square shell, I wanted to bring his pink striping into the piece. It's intended to be more of a pink than a red, as pictured, but I was unable to get a good approximation with the small colored pencil set I was using. All of the mitered squares are monochromatic, except for one panel in the front that incorporates the other subtle colors in his stripe pattern.
Episode 6 was a lot of fun! It was the models' chance to be the clients and to influence the design they were wearing on the runway. Designer Kentaro took a modern (homeless, apparently?) samurai inspiration to create some really beautiful pieces for his model, Meisha. I love the oversized quality of the top with the tucked hem in the back. And the shorts (skort? culotte?) were suuuuuuuper cool and I want them now! I mean, it was a pair of loose-fitting shorts, with some skirt-like panels in the front, but open with a tie at the waist...AND a belt (double belt...what does it mean??). And somehow looked super cool. I was a big fan!
So, to Make Knit Work this week, I focused on the skirt-like panels, tucked back fabric, belts, and general Japanese-inspired style. For the first sketch, I used the tucked idea on the cuffs and added eyelets around the upper chest to thread a ribbon "belt". The tuck would be constructed as a kind of box pleat in reverse..kinda. I'd have to work it out. The sweater itself is also a cropped style, like in Kentaro's top. My second design is a beanie with an over-layer like the skirt effect, "belted" around the crown to pull it all in. For my third sketch, I took a Japanese kimono style sweater, added cabling around all the edges, and some dropped-stitch "stripes" down the body. I've never worked a dropped stitch design before but it always looks interesting!
I hope you've enjoyed this exercise and would like to participate with me! If you're interested in sharing your design ideas, use the hashtag #MakeKnitWork on Instagram and Facebook. After all, one day you're in, the next day....you're still in because art is fun and I'm not here to judge you. :) Tata!