What is your ideal morning? I'll give you a taste of mine. It begins with sending my children off to preschool and driving along San Diego Bay, past a cluster of bobbing sailboats and yachts, and parking on a quiet side street in Liberty Station. Once there, I peek into what appears to be a chocolate shop (it is!) and wonder if they have coffee (hot dang! They do!) and take a few moments to enjoy one of their spicy mochas. I then walk next-door to my ultimate destination, Apricot Yarn and Supply. It is beautiful and simple and bright. A palette cleanser for my eyes, with ivory walls and delicate basketry and space to move and breathe and squish yarn. The owner, Sara Heckman, welcomes me in and we talk about life and art and yarn before my children need to be fetched once again. It's a pretty great scenario and (surprise!) happened last Wednesday.
As far as settings go, San Diego is a gold mine and Liberty Station is one of my absolute favorite landmarks. Located on the Point Loma peninsula, facing a bustling downtown across sparkling blue water, Liberty Station is a relic from our military past. It was a naval training center, serving recruits from 1923 to 1997. The community has since restored this gorgeous, sprawling campus of Spanish Colonial Revival architecture into an oasis of natural beauty and a vibrant marketplace, complete with breezy walkways, lush gardens and a trove of cultural spaces. With the opening of Apricot Yarn and Supply, it's only getting better.
Sara opened the shop on July 14 to a welcoming community of San Diego fiber enthusiasts. It was a bit of a homecoming for her family, as her own father was once employed here during his time with the Navy. She also had an art studio in the same building a few years back. She notes that they, "definitely wanted to be in Ocean Beach/Point Loma because that's where I'm from…and my dad worked here...He got out of the Navy right around when I was born, so I didn't visit, but it's been in my life because I kind of grew up over the hill." She adds, "My mom's from here, so they met at, like, the Officer's Club or something (laughs)…It's an exciting place to be, I think."
Sara learned how to knit from her mother when she was young, but didn't get into it right away. She does, however, have her mother to thank for an early interest in art. "I have a fine arts degree with a painting focus [from] Point Loma Nazarene," she recounts. "My mom is an artist, so I just grew up with it around all the time and I said, 'I'm going to be an artist' because you sort of watch your parent and thats what you want to do." When she was expecting her first of three daughters in Vista, she found knitting once again as a way to channel her creative energy. "Painting is really hard," she explains, because "it [requires] such a different brain." Plus, she "was using oils and they're kind of toxic, so I didn't want to have that in the house when I have little kids or expose myself to it when I'm nursing…[K]nitting fulfills that creative gap. It always gave me something to make or do."
The journey from knitter to shop owner was not an overnight phenomenon for Sara and her young family. They moved for a brief stint to New Jersey to accommodate her husband's job in New York and Sara found a new home away from home in a yarn and antiques shop. It would soon inspire a venture of her own, but with her unique point of view. The owner in New Jersey, "had this really interesting mix of antiques and yarn…I watched her shop evolve and I really like how she mixed it together and so...I thought it would be really cool to do that but just a little bit more my vibe." When the time came to open her store, Sara decided to turn away from replicating her east coast inspiration and instead apply "more of a modern style…More clean, not packed full of stuff and just kind of this vibe of plants and art and yarn."
Looking around, you can see how Sara achieves the modern feel at Apricot Yarn and Supply. The neutral walls and furniture allow the yarn to tell the color story and the abundance of natural light and physical space have a sleek, calming effect. There is a large community table in one corner and a set of comfortable chairs in another. If you're a knitter or crocheter who is looking for an LYS in the downtown San Diego area, this may just be your spot! As Sara illustrates, "I want it to be a social place. That was one thing I loved about…the New Jersey shop. You could walk in any day and it was like 'Oh! Hi! How ya doin',"...It felt like a place you wanted to go." She adds, "I'm open to people's ideas…[and] I definitely want people to feel like they can come in and talk to me and sit and knit…that it's an ok place to be."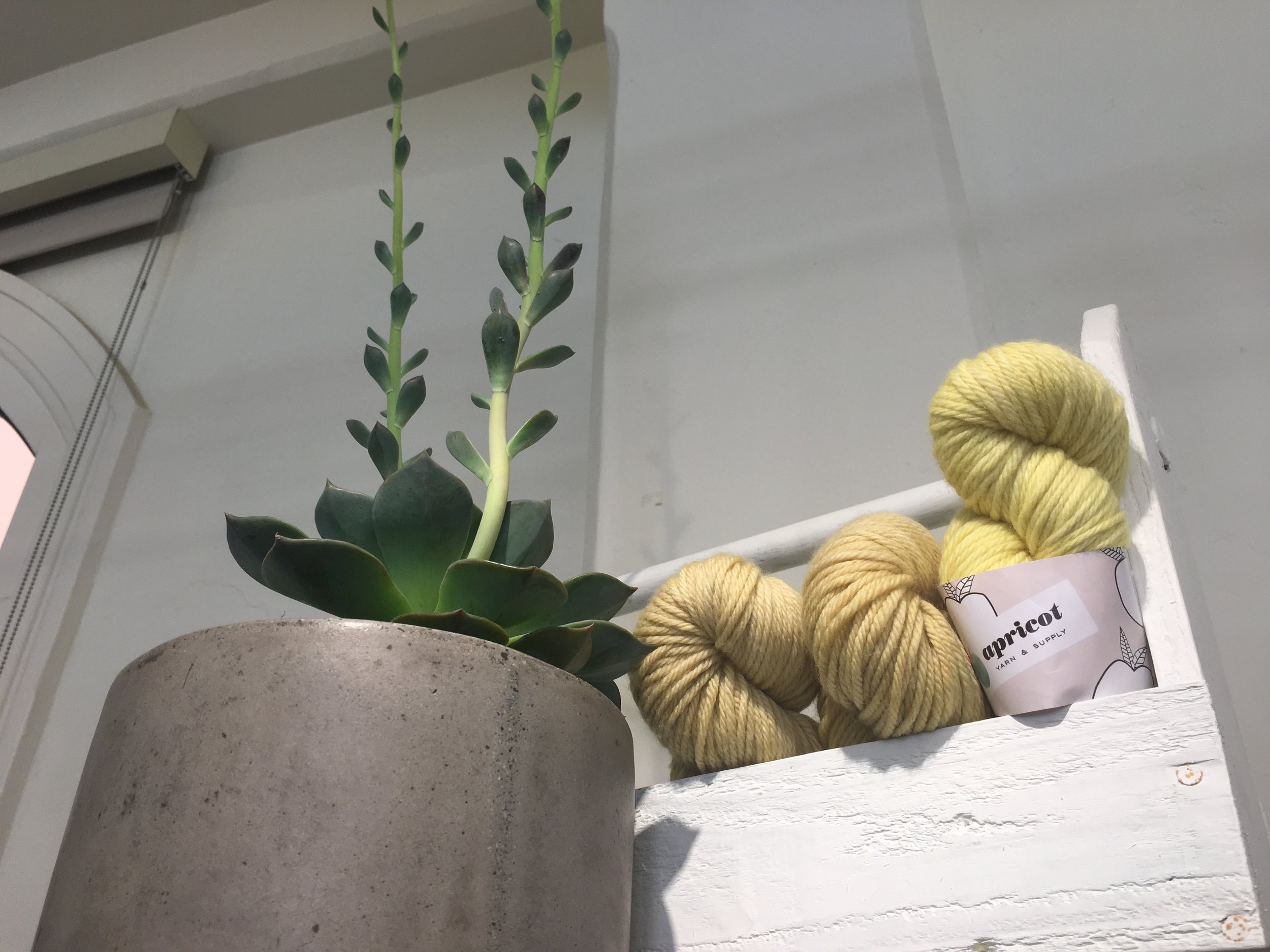 Naturally, one wonders what delights are stocked in this brand new yarn shop. Sara focuses on covering the basics, but also prioritizes local vendors and natural fibers. She carries such yarn makers as local dyer Baah, with their gorgeous, tonal fingering weight skeins, Erika Knight's subtle, classic colors and drapey cotton/linen selections, the vibrant colorways of Meadowcroft Dyeworks, Dirty Water Dyeworks, and Candy Skein, and the Made-in-the-USA sourcing and bright aesthetic of Cormo Elemental Effects. Rest assured that you can also find the consistent quality of Debbie Bliss, Juniper Moon, Mirasol, Ella Rae, Noro and Araucanio among others.
Being a mother of three young daughters, Sara also wanted to focus on bringing more knitters into the fold by offering a wide selection of youthful, beginner kits from Harrisville Designs. You can find fantastic tools and accessories, too, such as Lykke needle sets, the surprisingly speedy and lightweight Hiya Hiya needles, and your go-to Clover needles and hooks. Craft your knits with precision using her Katrinkles wooden gauges and adorable Ooly animal tape measures, and finish off your hard work with heavenly-scented Soak brand wool washes. You may also enjoy the handmade ceramic mugs and yarn bowls on consignment from local painter, Glazed and Confused (I couldn't leave without one of the bowls!). Apricot also offers classes and, as far as Sara is concerned, she is here to serve your educational needs. On the day I visited, she was hosting a lace knitting class and was currently in the middle of a series of magic loop classes. If there is a technique you have been itching to try, you may find an opportunity here. Or ask for one!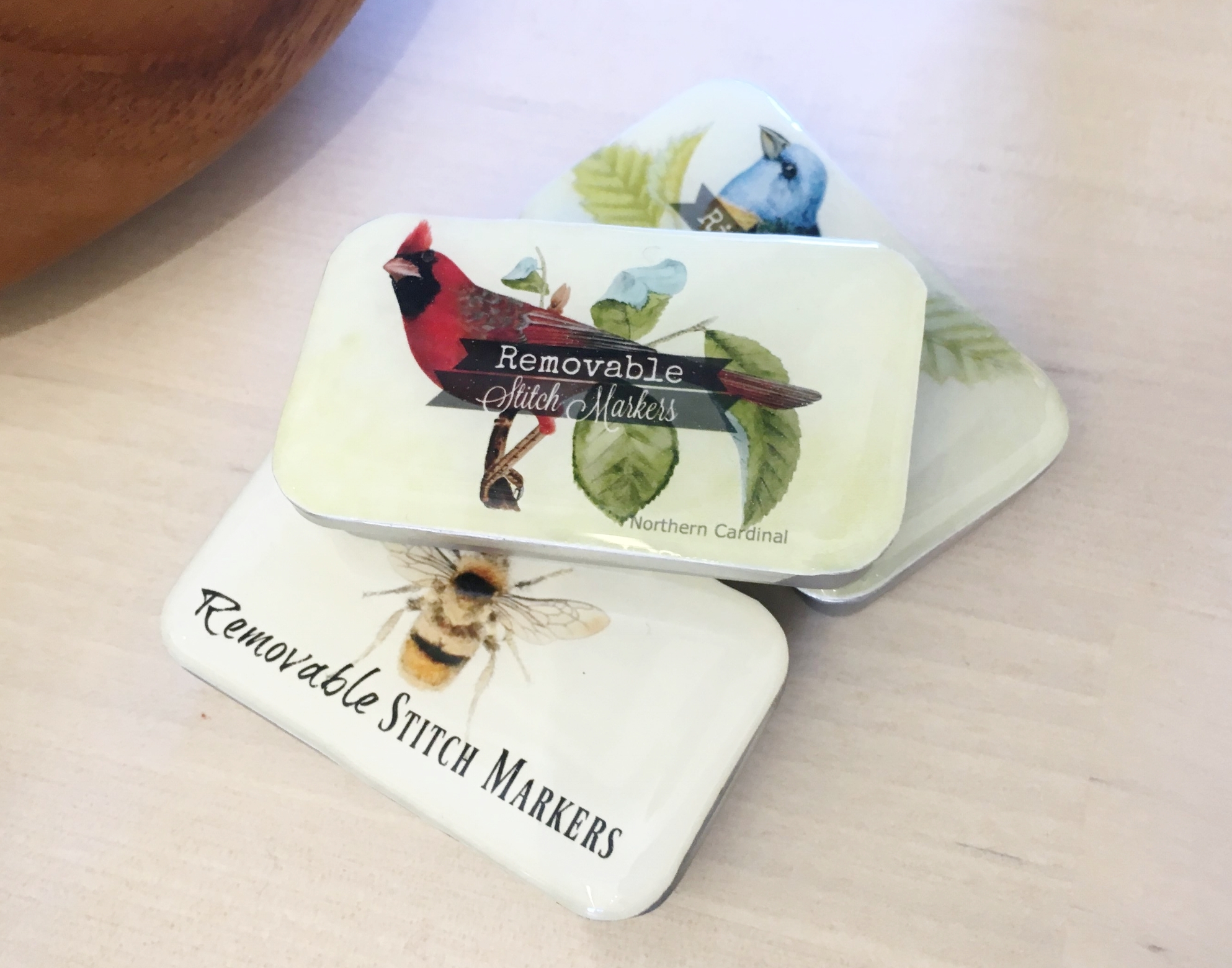 Many of us yarnophiles can understand the elation you feel upon leaving a beautiful space dedicated to the thing you love, and my journey home from Apricot Yarn and Supply was no exception. I adore San Diego County's current network of yarn shops and frequent them as much as I can manage, and I am thrilled to welcome Sara and Apricot into the mix. If the yarn and tools aren't enough to pull you in (gasp!), then consider a visit to Liberty Station to be more than enough draw to check it out. You will not be disappointed. You may even find a new home away from home yourself. I'll see you there.
For more information visit Apricot Yarn and Supply on their website at www.apricotyarn.com and follow the shop on social media at Instagram (@apricotyarn) and Facebook (@apricotyarn).
MORE ABOUT SARA:
On knitting as art: "You put in a lot of yourself into it. Like, a painting. You might have started with this idea and then, as it goes, it kind of pulls you along…you can push against it but you kinda usually don't win. Your idea sort of morphs into something else and the end result is maybe something you love or something you hate, but it's not really yours anymore…you've put yourself into it…If you love it, nobody else has to like it. I mean, that's a hard thing to say and people want to get compliments and they want it to be beautiful, but sometimes you gotta do what you love. "
On the benefits of knitting: "It's something you can do anywhere. You learn new things constantly. You go outside the box a little bit if you try new patterns and don't just knit the same blanket over and over again. They've said that that's super important for your...aging brain, is to constantly be making new connections."
On modifying patterns: "'Oh, I'll just change it!' That's kinda my attitude about a lot of stuff…so I think thats why I don't finish a lot of things, because then I run into trouble or it's not working out the way I thought it would…Sometimes that works to your disadvantage…But it's also a relief when you can [simply] follow along, it's like reading a book. You don't have to think of the story as you're going along."
On her personal aesthetic: "I love the speckled (yarn). When I first saw it, I think it was Stephen West using Hedgehog Fibers and [the dyer is] just amazing in the way that she puts color on the yarn. I think some people are more successful with it than others even though lots of people are doing it."
"I am super color sensitive…but I tend to pick really bizarre color combinations. I think it's just my painting and my art thing, so I'll either stay super safe and be like in the blues or grays, or it'll be just throwing weird stuff together and probably no one else would like it except me...I come from more of the art side of it where you just make it yours and you do what you love and if you love it, then that's all that matters because it's yours."
"I really like Japanese design…I like the aesthetic, it's super minimal a lot of the time, but there's some decoration and they are super into natural fibers. They don't really deviate into the acrylic at all….If there's a Japanese bookstore, I always go in and scour through the knit patterns."