When I was pregnant with my older boy, Owen, my husband and I moved from our 1-bedroom downtown condo into a 4-bedroom home in the suburbs. The neighborhood was brand new, so it was not yet "established" socially (or physically) speaking. We knew that we were entering into a different type of community than that of the "big" city. It has, therefore, been very important to me that I help create a community environment for our family and for other families living close by. Fortunately, I have a very friendly and boundary-free toddler who LOVES to walk up to people on the sidewalk and then help himself to their garage and home. He's a real ice breaker, that one, if you consider apologies and toddler extraction "ice breaking." We know a few families from such encounters.
Fast forward two and a half years later, and the HOA has finally set up a social committee and a small budget for social events. Guess who volunteered? And started working on the Halloween party when her newborn was only 2 weeks old? I cannot help myself. Party planning is a pathology of mine. We didn't have much money and I was in charge of food/beverage but I couldn't bring myself to settle on cookies and bottled water for our neighbors. I need variety and, dammit, it has to be cute! Brainstorming via Pinterest is always a good time, so I ended up with the following:
1) Mummy hotdogs with thematic installation - These dogs are a very commonly "pinned" item for Halloween parties, super easy to make, and delicious! My husband couldn't stop eating them. I wanted the display to be fun, so I glued some styrofoam pieces together into a multi-level platform, wrapped the pieces in white streamers like mummy wrappings, and stacked the mummies all over it. I also added a small coffin from Michaels with one of the mummy dogs inside, just for giggles. Cotton balls were pulled apart and shoved into the various crevices of the installation for a foggy effect (and to cover any eyesores). Oh! And the base was an extra piece of MDF I had lying around, painted brown.
2) Fruity corns - a healthy alternative to candy corns, you have your yellow (pineapple), orange (clementine wedges), and white (monterey jack cheese) all lined up on a toothpick like a big candy corn. I'm sure others have created this, as well, but I came up with it on my own before viewing any other versions. My apologies if anybody else posted them somewhere.
NOTE: I really love these serving platters I got on Amazon for the fruit! They have freezer gel in the base, but you can't see it, so the trays look really nice while keeping your food chilled. The clear lids are great at keeping flies off the food, too. Recommended!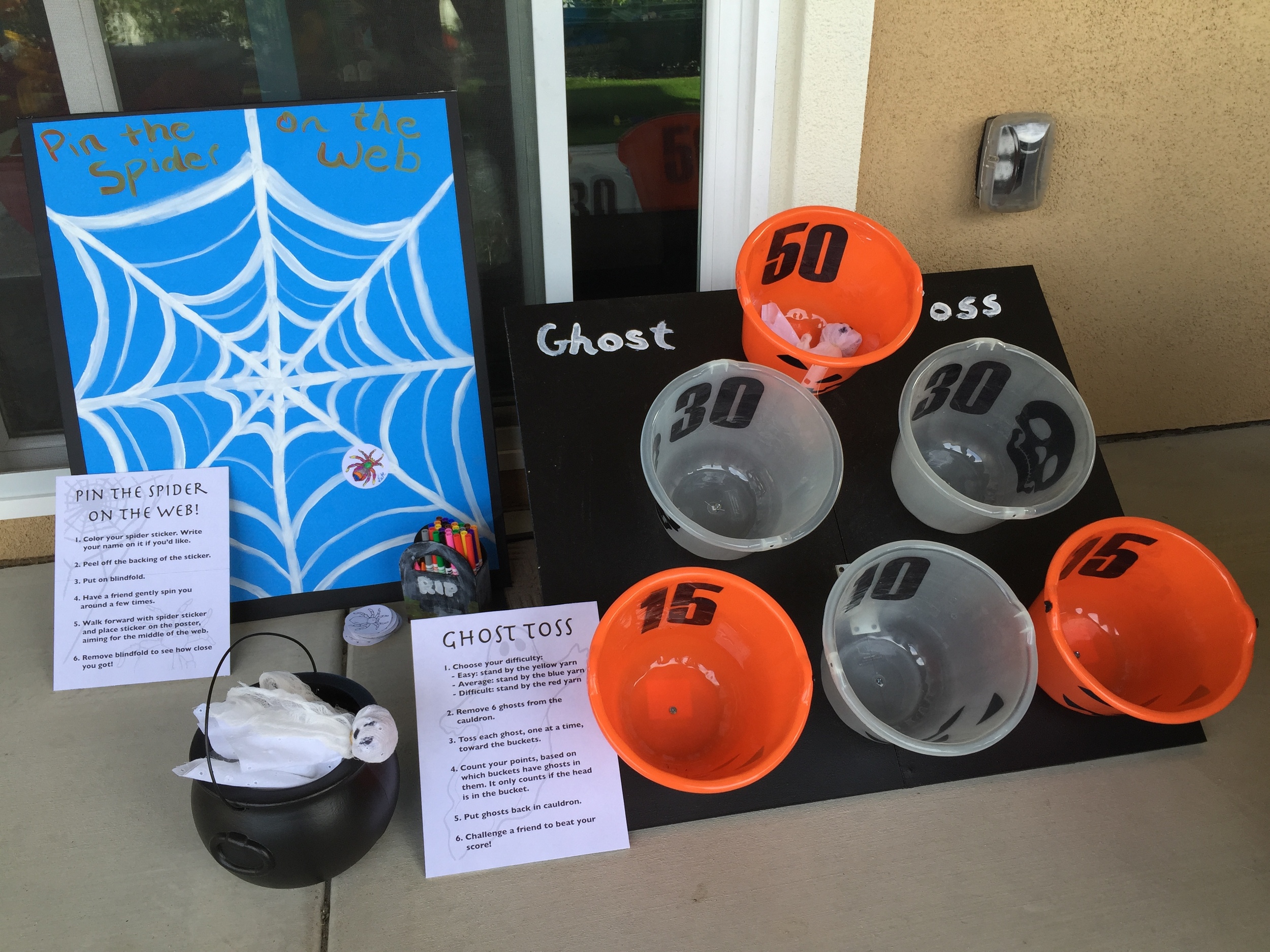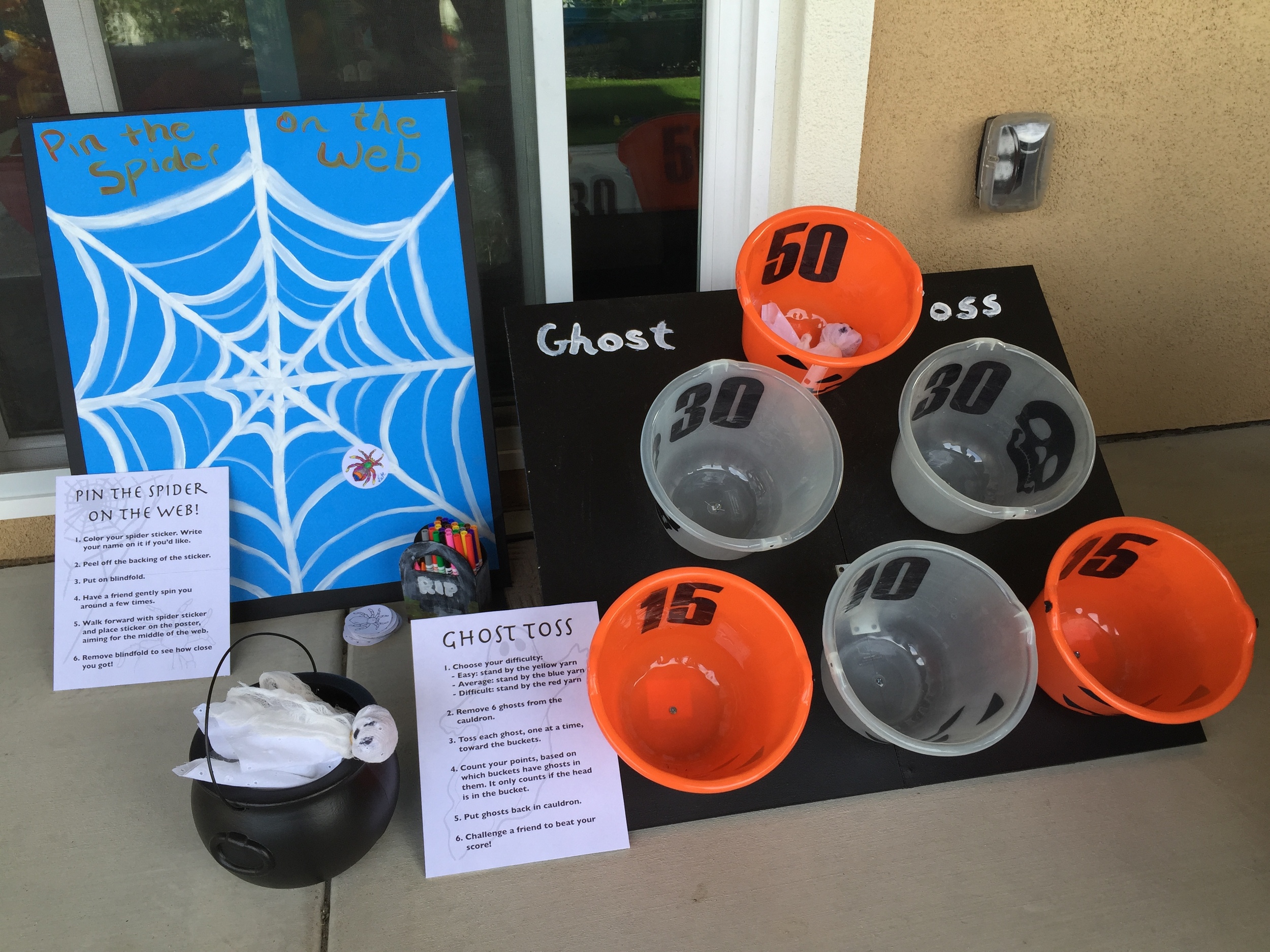 3) Ghost Toss - ok, so I might've spilled over into activities, too. I told you, I can't help myself! This is a version of a commonly pinned game in which "ghosts" are tossed into plastic pumpkin buckets for points. I got some dollar store buckets, a couple of boards cut at Home Depot, some hardware, paint, and big paper numbers at Target and put this puppy together. The ghosts were just lumps of dry kidney beans (it was what I had) in plastic wrap, covered in a layer of cheesecloth and white eyelet fabric, gathered at the neck with a rubber band, and ghost face applied via Sharpie. Super duper easy and fun!
4) Pin the spider on the web - Another pinned item. I just painted a spider web on foam board, then made stickers out of spider clipart so the participants could color in their sticker spider and do the usual blindfold-and-spin process for these sorts of "pin-the-tail" games. Pretty simple!
5) Carnival cutout - According to the internet, these open face photo op thingies are called "carnival cutouts." I started with a trifold piece of foam board that measured 3x4' when open. I then drew a simple version of King Tut's innermost coffin for my male "mummy" and created a version of Queen Nefertiti based on her famous bust and some ancient funerary paintings of females. I painted it in, cut out the faces and VOILA! I really didn't think this was going to happen. I was kind of intimidated by the whole thing, plus you can see just how chaotic my day can be just from the mess in the in-progess photo, but I managed to cut the faces and dust off the final project just before going to bed the night before the party. I'm thrilled with how it turned out!
So there you have it...another set of party crafts until I get more knitting pattern math done. I cannot wait to finish another pattern. Until then...enjoy the random crafty fun!